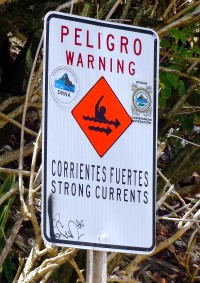 Playa Bajamar is a little-known secret of the locals. Across the street from El Capitolio is a set of steps that lead down to the beach. There is no sign by the steps indicating that there is even a beach there and if you didn't know about it, you would not likely discover it at all. Once you get down to the beach there is a sign that warns of very strong currents. This area is not safe to swim in, but if you walk farther down, there is an area that is safer to swim in. We don't recommend you go alone for two reasons. First, there is a population of homeless living down there. Secondly, there is no life guard at this beach so you swim at your own risk.
This beach is also known as a good place for finding sea glass.
For a family friendly beach, you would need to travel outside the old city area to find Escambron Beach.