Whether you are only in Old San Juan for a few hours or an entire week, these are the sights that you won't want to miss while you are here.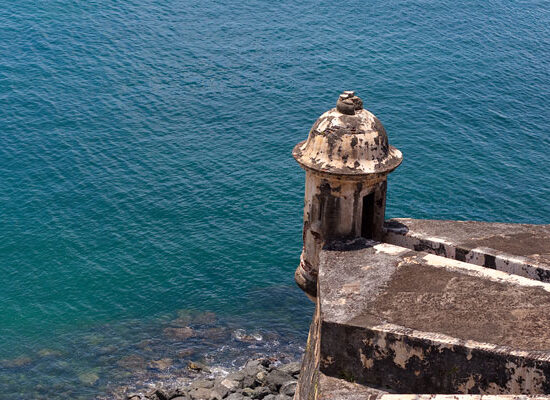 As one of the first military defenses in the Americas, it brings you back in time and has an amazing view of the entrance to the San Juan bay. Cruise ships entering or leaving port are almost at the same height as the 6th level of the fort. This remarkable Spanish military fortification took almost 250 years to be built. If you have kids, buy a kite and fly them at the large green fields outside of the fort for a true cultural experience.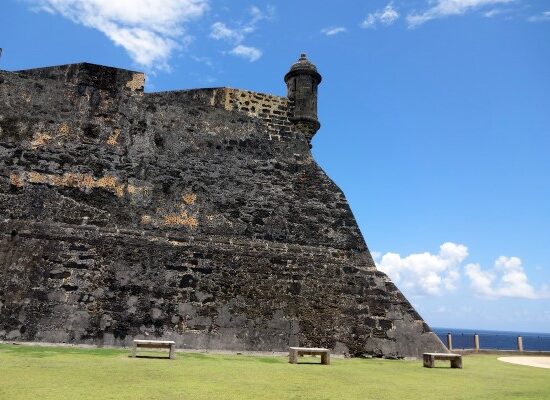 San Cristóbal is the largest and best-preserved Spanish military fortification in the Americas. It was built to protect San Juan residents from land attacks from the east side and covers almost 27 acres of land. Walk through an S-shape tunnel, enter a dungeon, take a picture inside a sentry box (aka as "garita"). Don't miss the amazing panoramic view of the city on the third level. Remember: Stay off the walls at all times!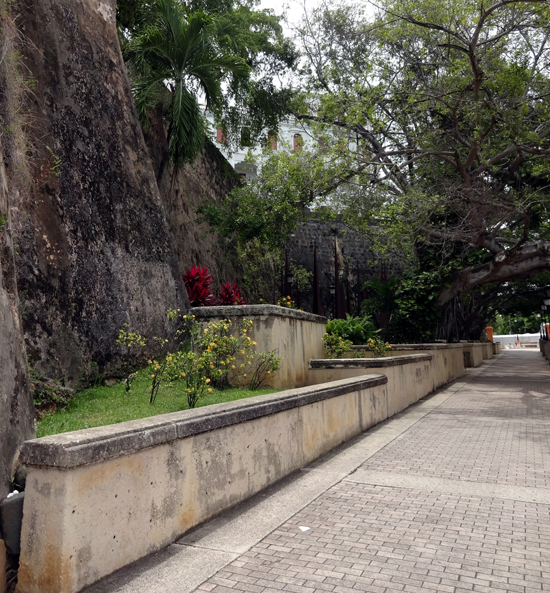 The Promenade begins just below the tallest building in Old San Juan: Banco Popular, Puerto Rico's first bank (you will see the entrance right next to the beginning of the walls). During the week it is calm and pleasant for long walks and even jogging. Weekends are packed with locals from all over the island who come to enjoy the lovely promenade under the shade of trees and shop for local handmade crafts. Along the esplanade, you will find kiosks and restaurants such as La Princesa Restaurant.  If you continue past the San Juan Gate, the walk extends for about a mile to the new entrance of Fort El Morro.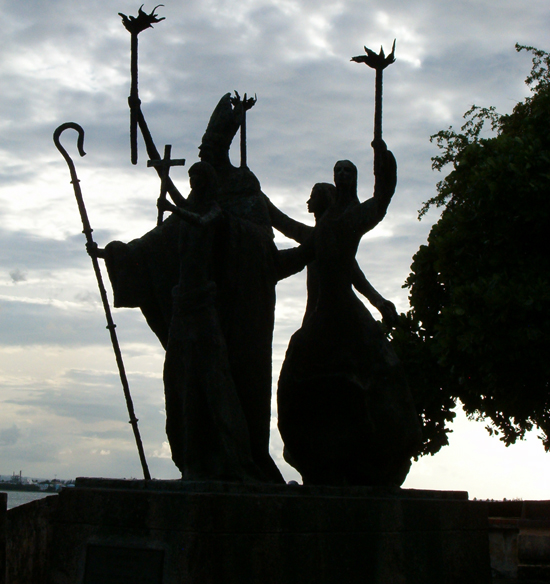 4. Walk along Calle Sol
Named because it is constantly exposed to the sun, this street is a great way to avoid tourists and crowded streets. It has great restaurants, coffee shops, and plenty of colonial architecture, including one of the smallest houses on the island. You'll also find three different churches and the first house constructed by Juan Ponce de León, Casa Blanca. Once you arrive at La Rogativa, a historic statue in the middle of a small square, look for a sign that says "LIMBERS" (Puerto Rican homemade frozen fruit juice popsicle) and buy one!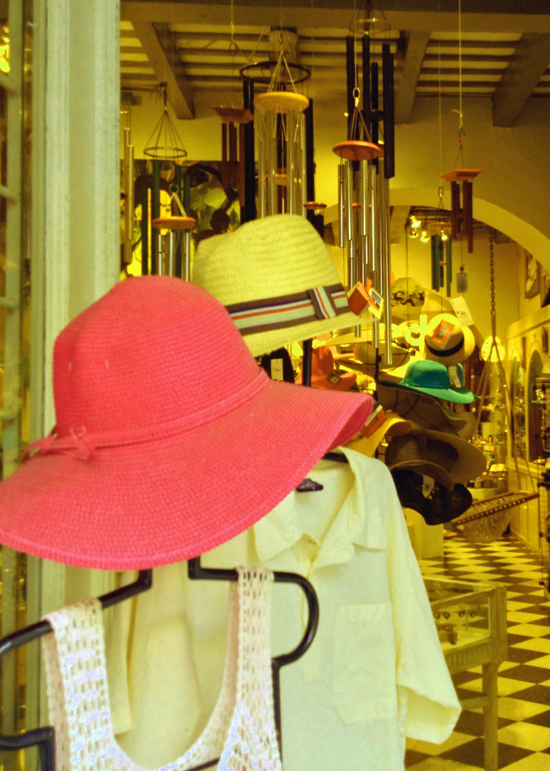 5. Shop, Shop, Shop!
Plan your shopping route beginning in Plaza Colón where local artisans sell their goods in temporary kiosks. Good news: You don't have to pay the 7% sales tax or IVU tax since they are exempt in order to promote local handcrafts. Continue walking up Calle Fortaleza where most of the souvenir shops are located. For more authentic handcrafts look for Puerto Rican Arts & Crafts or Mundo Taíno. These stores carry a wide selection of local artists from all over the island. The stores are attractive, prices are reasonable, and their variety is diverse. Visit "Mi Viejo San Juan" if you are looking for something just from the old city. Finish in Calle Cristo where you'll find classy factory outlets such as Coach, Tommy Hilfiger, Crocks, Guess, and many others. On San Francisco street turn right and walk down the street to find all the best bridal jewelry stores, finishing again at Plaza Colón for a well-deserved "café" or fresh fruit smoothie!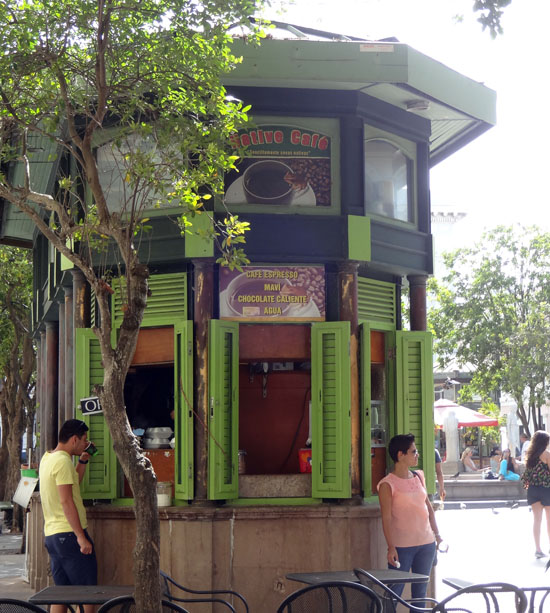 6. Enjoy an Unforgetable "Cafecito"
As you walk through the cobblestone streets of the old city, It's a must to try one of the many styles of "café espresso" in one of our styled coffee shops. New authentic coffee shops keep sprouting through the city. Most obtain their roasted beans directly from local coffee farms. Visit Caficultura and let one of their stylish baristas wow you with their pouring latte art. If you are looking for something trendy, visit Café Cuatro Sombras in Calle Recinto Sur. Having a simple espresso as a local doesn't get more real than asking for a "cortado" at Plaza de Armas' Café Cuatro Estaciones; it's inexpensive and you can sit outside.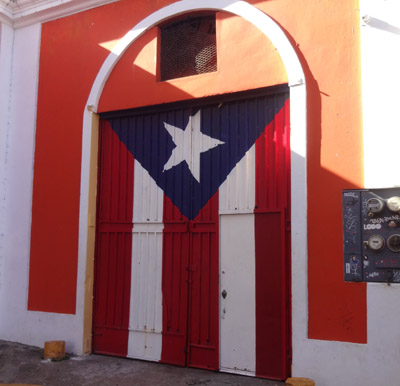 7. Go For a Scenic Stroll
Old San Juan has many 450 year old buildings that have recently been restored to their former grandeur. Take a walk around the city and admire the doors and balconies of these beautiful old buildings. Visit the Catedral de San Juan and admire its interior architecture. For a challenge, see if you can find the iconic door painted like the Puerto Rican Flag. Hint: You will find it on an out of the way side street.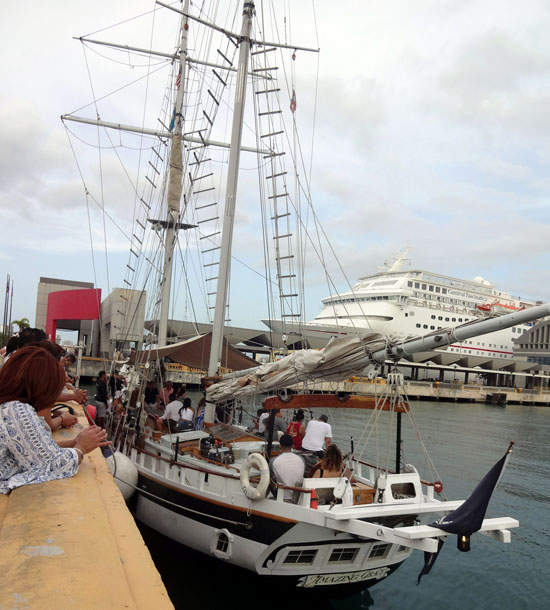 8. Sunset Sailing on the Bay
For an impressive view of Old San Juan's harbor, take a sunset sailing tour through the bay on the Amazing Grace, a top sail schooner, the same type used to fight the British in the American war for independence and the War of 1812. Experience Fort El Morro's grandeur and savor the colors and history of an active old city from a distance. This is the largest bay in the Caribbean and one of the most important ports in the western hemisphere.
Tours are run by East Island Excursions and the boat is docked at pier 4.
9. Bicycle Rental
Join a guided bicycle tour of the old city. Tours depart from Bahia Urbana next to Pier 4. Another option is to rent a bike for the day and ride it in and out the city. Old San Juan does have some hills, but don't worry it is not San Francisco! The city is comfortable enough to ride, but just as any other city, be conscious and share the road!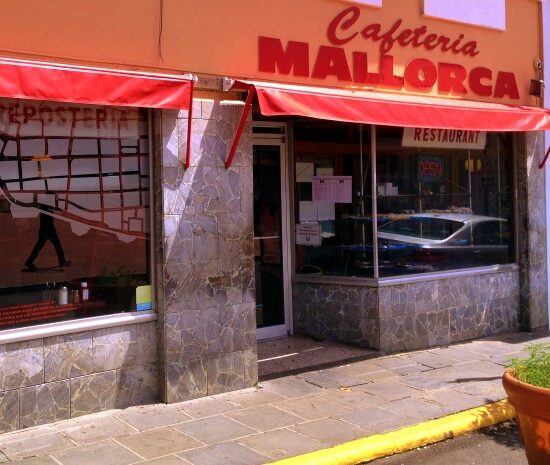 10. Colonial Breakfast in Old San Juan
La Mallorca Restaurant is the place where locals have their morning meal, including a great cup of coffee and the authentic "mallorca" (a Spanish-type brioche.) Many people order them with just butter, but you can make a sandwich out of it by ordering a ham and cheese, or ham, cheese, eggs and bacon mallorca. Their variety of fresh baked sweets is incredible. Sundays are busy because it is the place where locals go after church.
For a classy and delicious breakfast, try guava pastries with espresso at Caficultura. For the adventurous ones, go to Waffle-era, the best waffle restaurant in Old San Juan. Expect creative "waffle-cuisine" without limitations. They are also the only tea room in San Juan and have an excellent selection of coffee from all around the world. Ask for the siphon fire- brewing method!