Numerous companies offer Old San Juan city tours. They range from theme-specific tours such as culinary or coffee-lovers' tours to general history tours. Unfortunately, some are too touristy for our liking.
With Iggy's help and expertise, we offer creative walking tour options that emphasize more of a local and cultural flavor still full of history, food, and yes, "café."
Tours: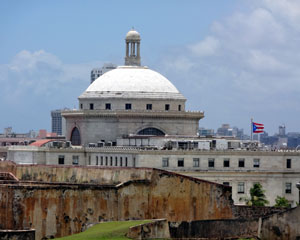 Insider's Old San Juan Tour – What is it like to live in Old San Juan? Where do locals eat, shop, and enjoy their "cafecito?" Can I go to a beach in Old San Juan? Discover Old San Juan from a local's perspective. Meeting point: Plaza Colón; time 9am – 1pm; $45 per person*; $30 (children 10 and under)
Start at Plaza Colon, visit Fort San Cristóbal, walk to less touristy streets and have lunch at a local restaurant away from the crowds. Tour includes fort and Capitol Building entrance fees, and tour guide. End the tour in Calle Fortaleza, or even better, at local's old city beach. Please note that the Capitol Building is not open on Sundays. Lunch at a local favorite restaurant optional for an additional $12 per person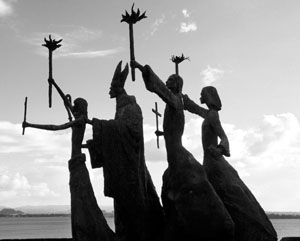 Night Legends and History Tour – Discover the legends of Old San Juan on a thrill-filled walking tour through old cobblestone streets. We'll concentrate on the area near Calle de Cristo, San Juan's main gate and the old Ballaja Neighborhood. By reservation only, "piragua" / "Limber" stops included. Please note, this is not a ghost tour.  Meeting point: Plaza de Armas; Tour usually starts by 7 PM and lasts two hours; $35 per person* $20 (children 10 and under)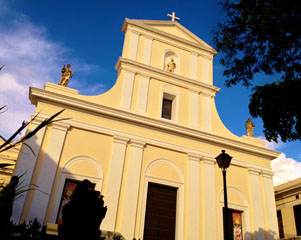 Religious Sites Tour – What's the connection between Spanish ships, the San Juan Gate, and the Cathedral's geographical location? Where is Ponce de Leon's tomb? Discover the importance of religion in the New World not just by touring churches and monuments but also by learning about famous legends and architecture. Visit San Juan's Cathedral, key churches, monuments, chapels, cemetery, and a convent/hotel.  Meeting point: Plaza Colon; time: 3-4 hours; $35 per person*; $20 (children 10 and under)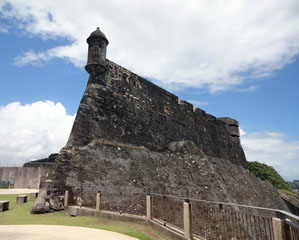 Capitol and Fort Tour – What does famous Michelangelo and San Juan's Capitol building have in common? Learn about our Capitol Building and Fort San Cristóbal, the strongest and largest Spanish fortification in the Americas. Then, take a tour of fort San Cristóbal. Please note that the Capitol is not open on Sundays. Includes fort entrance. Running time 3 hours. Meeting point: Plaza Colon; $40 per person*
*Private customized tours and prices are per person for groups of 4 or more. Ask us if you need a quote for a smaller group. Tours not recommended for children under 7 years old. Tour group size is limited to 12-14 people. For larger groups please contact us at 888-366-6121.
Customized tour? – Want to get creative? Let us know your preferences and we'll price it accordingly.
PAYMENT – We accept cash, check, and credit card.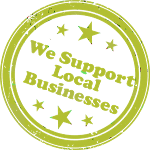 We support local businesses and organizations in order for visitors to receive the most authentic cultural experience on the island. We honor local tour guides, locally-owned restaurants and vendors, and are always looking for places whose standards for customer service are the highest in the market.