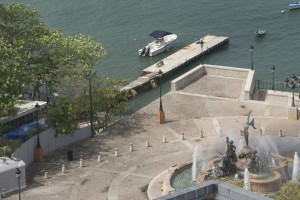 NOTE: Due to the pandemic, most of these events have likely been cancelled until conditions improve. 
There are many events that happen regularly year round in Old San Juan. We suggest you call ahead to make sure the even is still going to take place before you go.
In addition to the list below, The forts El Morro and San Cristóbal will be offering free admission on the following days: August 25th, September 30th, and November 11th-12th.
Artisans Market @ Plaza Darsenas
When: All day when cruise ships are in port
Artisans and other vendors can be found in Plaza Darsenas displaying their wares.
787-722-1709
Bohemia Night @ El Toro Salao
When: Thursdays at 8:00 pm
Live Music
787-722-3330
Discover Nature of Old San Juan
When: Fridays 9:00am – noon
A guided tour through Old San Juan that talks about the ecology of the old city. Reservations required.
787-722-5834
Flamenco Dance Show @ Barachina Restaurant
When: Fridays & Saturdays at 8:00 pm
Cost is free with the purchase of dinner.
787-725-7912
Artisan Exhibits @ Plaza Darsena and Paseo de la Princesa
When: Weekends from 10:00 am – 8:00 pm
Artisans, food, and music
787-722-1709
Live Jazz Music @ Sheraton Hotel
When: Saturdays from 7:00 pm – 10:00 pm
First floor bar.
Lighthouse Tour @ El Morro Fort
When: Saturdays at 2:30 pm
787-729-6754
Farmers' Market @ San Juan Museum Courtyard
When: Saturdays from 8:00 am – 1:00 pm
San Cristóbal Tunnel Tour @ Fort San Cristóbal
When: Sundays at 10:30 am; 45 minutes long
Learn about the role the tunnels played in the defense of the fort
787-729-6777
I Love Puerto Rico Cultural Fest @ Paseo de la Princesa
When: Last Sunday of each month
Live music, food, artisans, and kiosks
Romantic Sunset Concerts @ Plaza Darsena
When: Last Sunday of each month from 5:30 pm – 8:00 pm
787-721-2400 ext 2215
Life Inside the Fortification @ El Morro Fort
When: Third Sunday of each month; all day
Live re-enactment of a soldier's life inside the fort during the 18th century; includes practice, drills, work and free time.
Artisans' Sunday @ Museo de las Americas in the Cuartel de Ballajá
When: First Sunday of each month from noon – 5:00 pm