Old San Juan is a very walkable city.  You can get anywhere on foot if you are healthy and have a good pair of walking shoes, but if you need other alternatives for transportation, here are some options:
Bicycle Rental:
Rent the Bicycle is located on Pier 6 and offers yellow cruiser bikes for a daily rental fee.  The fee includes a lock and helmet.  For an additional fee you can get a child bike seat as well.  For more information and rental fees, their number is 787-602-9696
Taxi Service:
Most taxis try to drop passengers at Plaza Colon, which is the first plaza you come to when entering Old San Juan, in order to avoid the traffic jam inside the city. If you have luggage, make sure you ask the driver to take you to your final destination. You can pick up a taxi in one of the following locations: Hotel Sheraton, Hotel El Convento, Hotel Plaza de Armas, Calle Recinto Sur in front of the Starbucks, or you can wait in Plaza Colon.
All Astro Taxi
427 Calle Tapia
San Juan, Puerto Rico
787-727-8888
Taxi Zone – Rates
Tourist Zones in the Metro Area
Zone 1 LMM International Airport
Zone 2  Hotels in Isla Verde
Zone 3 Hotels in Condado and Miramar
Zone 4 Hotels in Old San Juan, Piers in Old San Juan, Puerta de Tierra and Miramar
Zone 5  Convention Center, Fernando Luis Ribas Dominicci Airport in Isla Grande
Trips from LMM International Airport to Tourist Zones
Zone 2                                  $10.00
Zone 3                                  $15.00
Zone 4                                  $19.00
Zone 5                                  $15.00
There is a $1.00 charge for each piece of luggage. If there are more than 5 passengers then there is a charge of $2 per person.
Buses: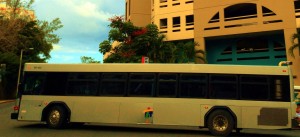 There is no island wide public transportation system and there are no bus routes that can take you around Old San Juan, but you can use the Metropolitan Bus Service (AMA) at the Old San Juan bus terminal if you are looking to go visit other areas of the Island.   Each bus stop, or parada, has a sign showing which buses stop and pick up at that location.  A one way trip is only 75 cents.  You will need exact change as the bus drivers don't give change.  For more information, you can stop at the Old San Juan bus terminal for schedules. Bus lines that pick up and drop off in Old San Juan are: M1, M3, ME, 9, 5, 23, 53, and 21. You may sometimes see a letter in front of the bus number. The letter may vary, but the only thing that matters is the bus number. For example, C53 and T53 are the same bus route.
Car Rental:
Old San Juan has very limited public parking, but if you wish you can rent a car at the airport or at Charlie Car rental (see below).  There are 4 public parking lots in Old San Juan: Two are located behind the Sheraton Old San Juan on calle Recinto Sur, one at la Puntilla, and one under the Ballaja Building just off of calle Norzagaray.
Charlie Car Rental
San Juan International Airport
787-728-2418
Parking:
Parking can be found in parking garages in various places around the city.
Paseo Portuario – 24 hours
Calle Recinto Sur
La Puntilla
Calle Puntilla
6:00 am – 10:00 pm Sun. – Thurs.
6:00 am – 2:00 am Fri. – Sat.
Doña Fela – 24 hours
Calle Recinto Sur
Covadonga
Calle Recinto sur
La Cochera
Calle San Francisco
7:00 am – 6:00 pm
Ballajá – 24 hours
Calle Norzagay (underground)
Trolleys and Garitas:
There are 3 trolleys that you can catch that run to various parts of the city. They are absolutely free. They are not tour trolleys so there is no tour guide, but they are convenient when you are hot and tired and would like a ride to where you are going.MAP
The trolleys are not running at present, but will be back soon.
In their place are yellow carts called Garitas. If you see one in Old San Juan, you can flag it down and the driver will take you where ever you want to go in Old San Juan for Free!
For more information on the trolleys and Garitas you can find it here. This site also has an interactive map you can use to locate a Garita for a ride.